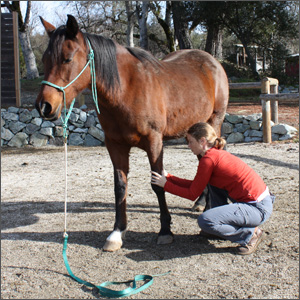 Our first session begins with a static and dynamic evaluation of your horse-this includes watching your horse go, assessing conformation, and palpation. This is also an opportunity to go over your horse's history and any issues diagnosed by your vet. During palpation, I check for tension, tightness, and/or pain. As I run my hands along your horse's body, I assess, explore, and communicate with him. We have a dialog.

After the assessment, we go over my evaluation and come up with a plan of care that includes bodywork, stretching, and conditioning exercises for you to do in between my visits.

If I'm addressing a certain issue, helping your horse recover from an injury, or keeping him supple for his job, I'd like to be able to see him every 7-10 days for 4-6 weeks. If this is a preventative session or your horse is geriatric, once every 4-6 weeks will suffice. In either case, I then recommend a maintenance plan for you to follow.

A word about chit chat...
Although I do enjoy catching up with my human clients, I really like to limit conversation during the session so that I can better focus on your horse. Once I begin palpating, I enter a conversation with your horse. I rely on his feedback, as well as my own, to accurately assess the tissue. As I work, I expect the horse to listen and respond to me either by leaning in to me or moving away. I've found that if I am also engaged in conversation with the owner or handler, I miss subtle nuances, the horse loses confidence in me, and the session becomes less productive. I just can't have two conversations at once!